Dear Parent
Key Stage 4 is an exciting as well as a challenging time for students. The GCSE journey through both Years 10 and 11 will present your child with the opportunity to secure the qualifications necessary to advance onto their chosen pathway beyond school; whether it be Sixth Form, college or a vocational training scheme. We will support your child throughout Key Stage 4, and if they embrace their learning and commit to academic endeavour I am sure they will be very successful.
In order to support parents, the following guide aims to provide a quick and comprehensive source of information about all aspects of KS4 life.  The guide will include information on:
If you have any further questions or enquiries please do not hesitate to get in touch. Contact details are available on the back page of this document.
Yours faithfully
James Harris
Assistant Principal – Head of Key Stage 4
Changes to GCSE
As you are probably aware the government has recently announced radical changes to the structure and assessment of GCSEs. We are moving away from the familiar system of A*-G grades to a new system of grading with numbers. In addition to the changes to the structure of the GCSEs, the government is also raising the expectation of the standard of GCSE that will be considered as 'good pass' from a C to a new grade 5.
These changes have large implications for target setting in schools. At Hall Cross we feel that it is vitally important for students to receive new target grades as soon as possible. Consequently, the school is well advanced in preparations for the new GCSE grading system and is ready to begin rolling out new targets.
What do the numbers mean?
Because the content in the new GCSEs is so different there is no simple and direct way to convert between the old GCSE A*-G grades and the new number grades. However, to ensure that the new system is fair to those students taking the new exams the government has fixed the percentages of students gaining particular grades against the old system. So for example the same proportion of students that gained an 'A' and above in the old GCSEs will now gain a grade 7 and above in the new GCSEs. However, this does not mean that a grade 7 is equal to an A grade as the content is so different. We have included an explanation sheet from OFQUAL below that provides further information concerning the proportions of students that receive each grade compared with the old system.
Future timeline:
For students getting results in August 2017
Subjects to be graded 1-9:
Maths, English Language, English Literature
For students getting results in August 2018
Subjects to be graded 1-9:
All of the above – plus – Art & Design, Biology, Chemistry, Computer Science, Dance, Double Science, Drama, Food & Nutrition, Geography, History, French, Spanish, German, Music, Physical Education, Physics, Philosophy and Ethics
For students getting results in August 2019
All of the above – plus –
Business Studies, Design & Technology, Economics, Film Studies, ICT, Media Studies, Psychology, Sociology
Does this mean my child might receive some numbers and letters when they get their grades?
Yes – Due to the number of different GCSEs that are being updated, not all subjects will be moving to the new 1-9 system at the same time. It is quite possible that your child will have a mix of letter and number grades when they receive their targets this year. This is the same nationally and your child will not be disadvantaged in any way by this. We will outline how we will report your child's tracking grades in sections further in this document.
Assessment Calendar at KS4
In KS4 there are a total of 9 official assessment points carried out by their subject teachers.
Year 10
No Events Found
We are in the process of updating our events calendar, please check back soon for more information.
Year 11
No Events Found
We are in the process of updating our events calendar, please check back soon for more information.
After each round of assessment subject teachers will track the progress of your child.
How do we inform you of your child's progress?
Parents' Evening
No Events Found
We are in the process of updating our events calendar, please check back soon for more information.
Subject teachers will arrange appointment times with individual students. If you have concerns about arranging appointments with subject teachers please do not hesitate in contacting Mr King (Year 10 Year Manager) and Mrs Gibbins (Year 11 Year Manager).
Formal Parent Evenings provide a fantastic opportunity to discuss your child's progress and potential strategies to further support them. However, the Academy would welcome any additional opportunities to discuss student progress throughout the year and we encourage parents to access Sims Leaning Gateway to keep updated on your child's performance.
Throughout the Academic year parents will be provided with 3 Progress Reports which will indicate your child's subject area, their MLG (Most Likely Grade) and their target grades. In addition to their academic performance, the Academy will also report on their attendance and Learner Profile.
Year 10 Progress Reporting dates
1. 14/11/16
2. 23/1/17
3. 27/3/17
4. 22/5/17
5. 10/7/17
Year 11 Progress Reporting dates
1. 21/10/16
2. 16/12/16
3. 6/2/17
4. 27/3/17
Learner Profile Grades
At each assessment point students will be assessed on their attitude to learning as well as their progress grades. Attitude to learning is graded using the `Hall Cross Learner' which is a set of expectations made up of seven qualities which we believe will enable our students to succeed within school and in their future career.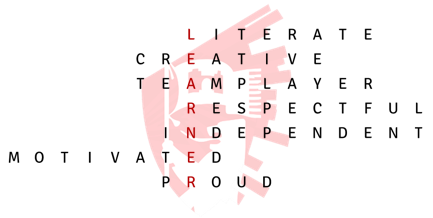 Student's attitude to learning is assessed across the board and the appropriate attitude to learning is used to correspond with their behaviour, performance and attitude within lessons using the following matrix: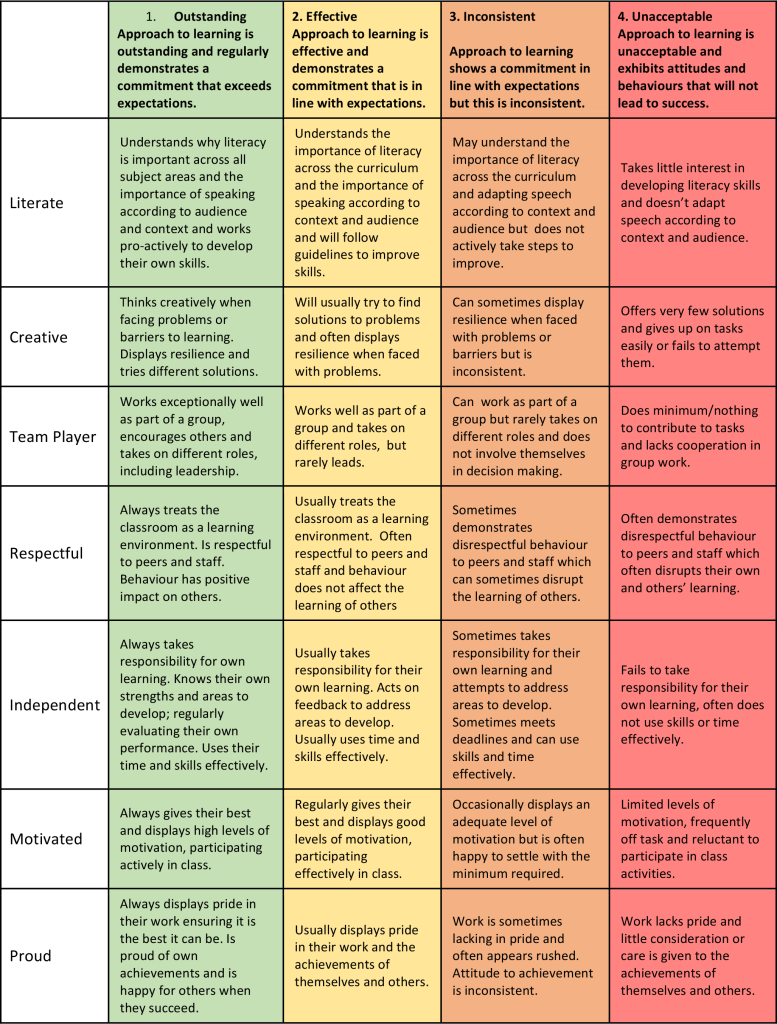 Period 6
These sessions will address any areas of concern within the subject to help students gain a better understanding of any aspects with which they may be struggling. If your child is required to attend period 6 sessions for a subject, you will receive a letter which will outline the days and times of the sessions. Period 6 Intervention Sessions take place between 3.05pm-4.05pm Monday-Friday and your child will be required to attend until improvement occurs. These are compulsory sessions and we hope you will join us in encouraging your child to attend these intervention sessions if necessary as they are an important part of giving students the help they need to succeed.
Rewards and Sanctions
At Hall Cross Academy we believe that encouragement and reward is an integral part of the learning process for our students, rewards have a motivational role in helping students to realise that hard work, good behaviour and determination is valued by the Academy and wider community. The Hall Cross rewards policy is a points system which uses the `Hall Cross Learner' to praise students who display those values and also reward any extra-curricular activities in which they take part. Bronze, Silver and Gold badges are awarded to students who reach a point's threshold and points can also be `spent' in the online VLE 'shop' exchanging points for prizes. Additionally, departments recommend students for effort and achievement awards every term and at the end of the academic year a celebration evening is held to share the successes of our students.
Occasionally, students do make wrong decisions and may be deemed to be in breach of the Behaviour Policy when displaying behaviours that:
disrupt the learning of others,
endanger the health and safety of the school community
damage the reputation of the school
You may see reward (and sanctions) given in the SIMS Learning Gateway.
Option Changes (Year 10 only)
We realise that some students may wish to change their GCSE options for various reasons and we will try and accommodate any changes as best we can. Students are given the opportunity to change options within the first 3 weeks however, students will be encouraged to spend some time in their options to make an informed judgement before making any decisions. If students are still unhappy we are happy to have discussions and changes will be made with a supporting letter from parents. After October half term there will be no changes made to options.
Hall Cross Sixth Form Entry Requirements (2017 Entry)
Throughout Key Stage 4, your child will be encouraged to carefully consider their pathway into post-16 education; if your child decides to stay with us to study at Hall Cross Sixth Form they will need to satisfy the following minimum entry requirements (please note that these are subject to change):
Grade 5 in Maths & English
Additional 4 C grades in other subjects
Further requirements to be decided by individual subjects and departments
Good attendance record
Good Learner Profile
Key Dates
May 2022
May Half Term
30th May 2022 until 3rd June 2022
Jul 2022
School closes for Summer Holidays
21st July 2022
Summer Holidays
22nd July 2022
Sep 2022
Year 7 & Year 12 Students Return
5th September 2022
All Students Return
6th September 2022
Oct 2022
Training Day
14th October 2022
October Half Term
24th October 2022 until 28th October 2022
Dec 2022
Training Day
2nd December 2022
Christmas Holidays
19th December 2022 until 30th December 2022
Jan 2023
Bank Holiday
2nd January 2023
Feb 2023
Half Term
13th February 2023 until 17th February 2023
Apr 2023
Easter Holidays
3rd April 2023 until 14th April 2023
May 2023
Half Term
29th May 2023 until 2nd June 2023
Jul 2023
Disaggregated Day (School Closed)
24th July 2023
Disaggregated Day (School Closed)
25th July 2023
Summer Holidays
26th July 2023
Contacts
There are several points of contact within the school; for general enquiries please call the Upper School enquiries line on 01302 320626 or please send an email to enquiries@hallcrossacademy.co.uk where you will be directed to a member of staff who may be able to help.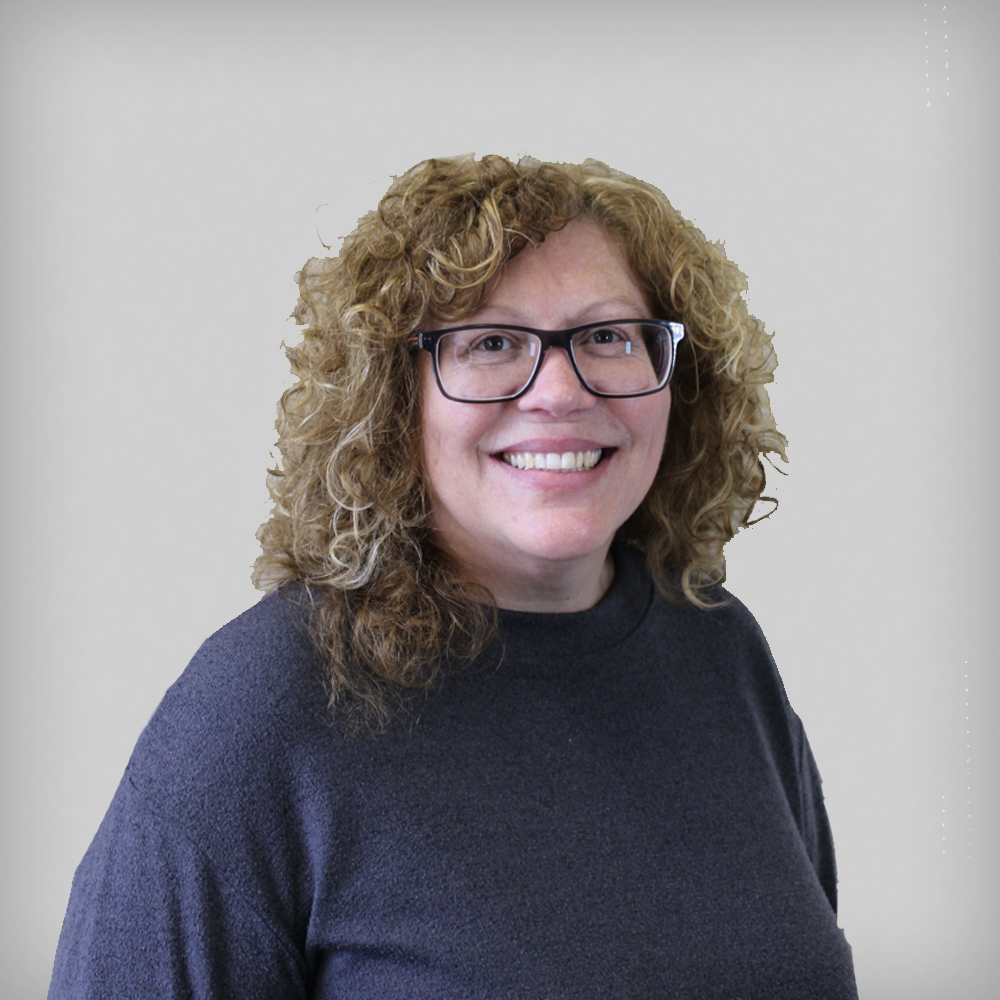 Mrs M Martin
Year Manager(Year 10)
Mr J Harris
Assistant Principal
Head of Sixth Form and Upper School - Learner Experience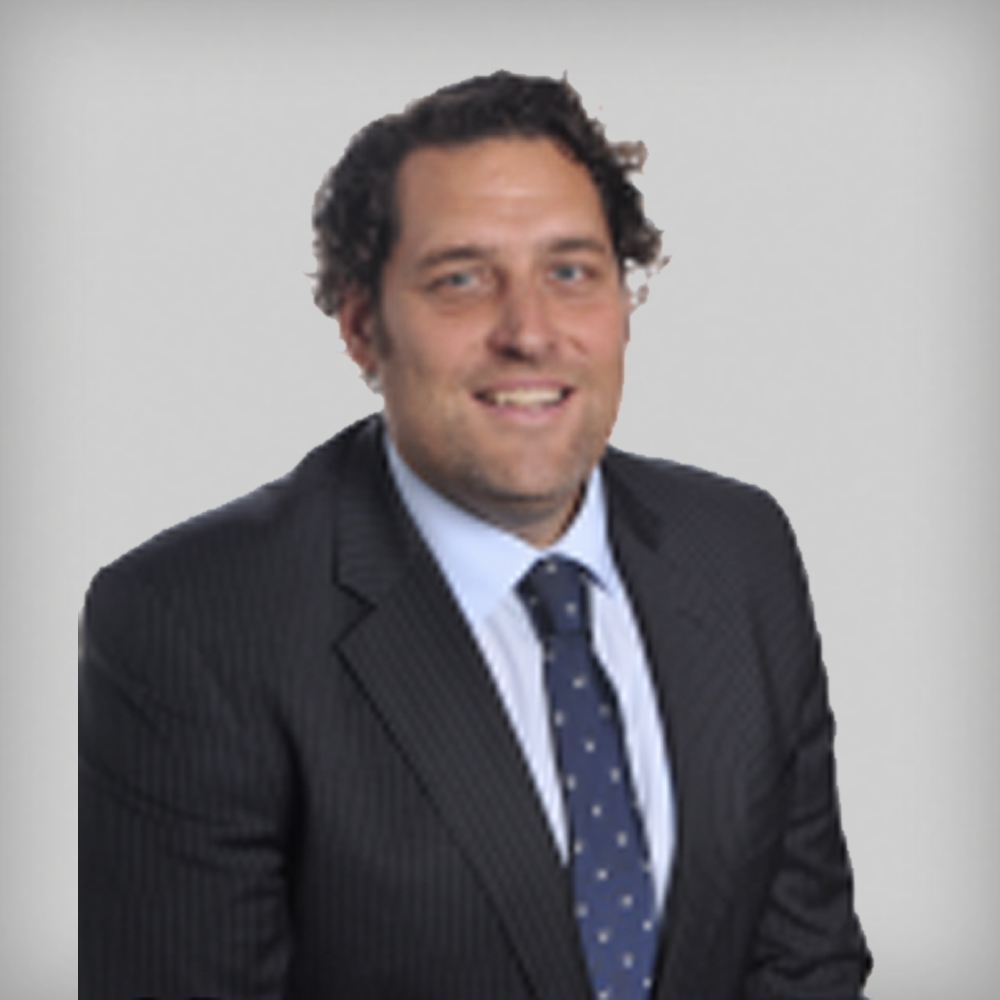 Mr P Tyrer
Key Stage 4 Phase Leader (Care and Guidance)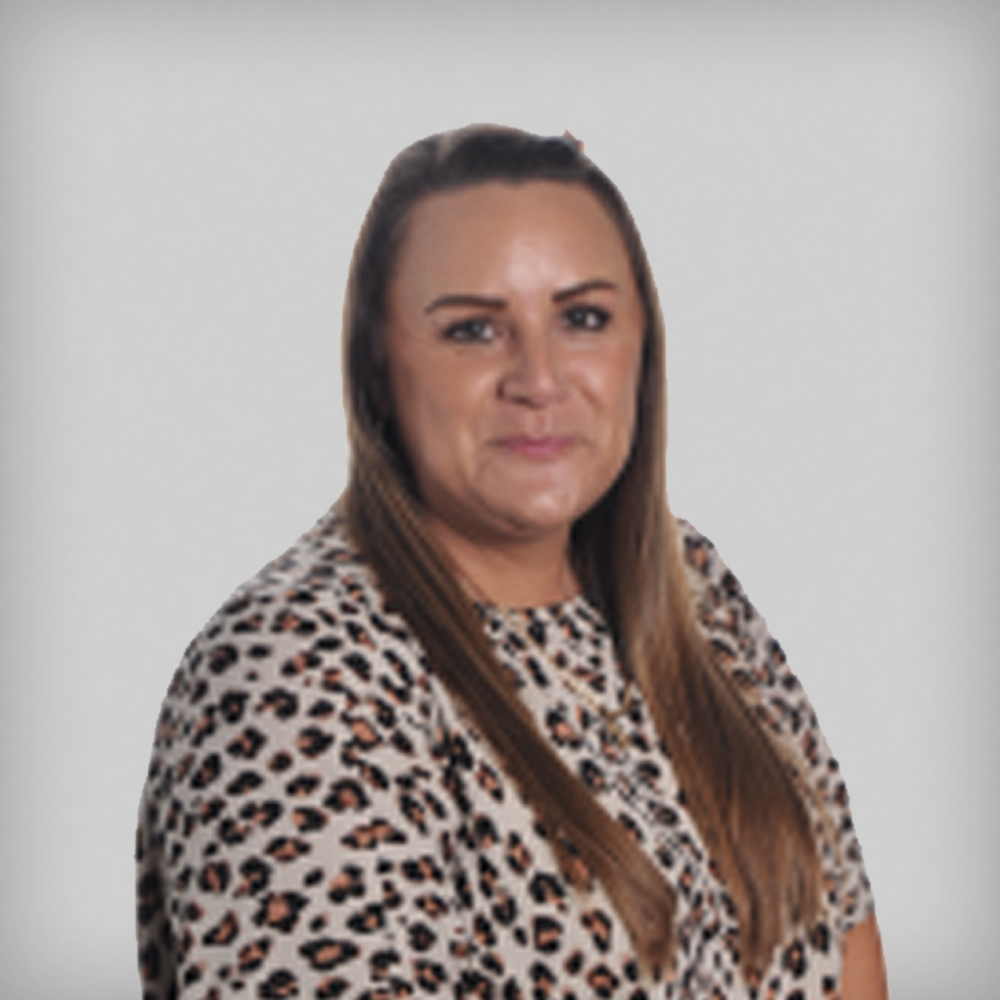 Ms S Vickers
Year Manager (Year 11)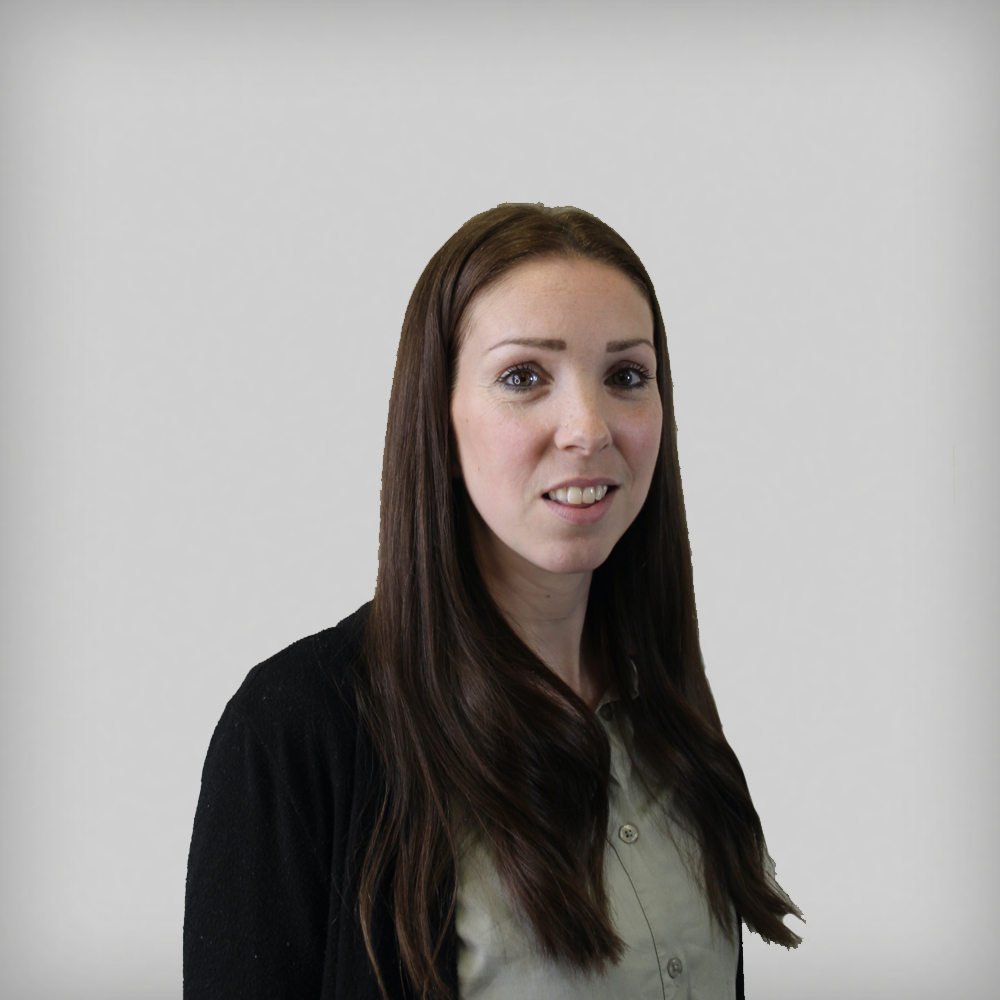 Miss R Birch
Careers Advisor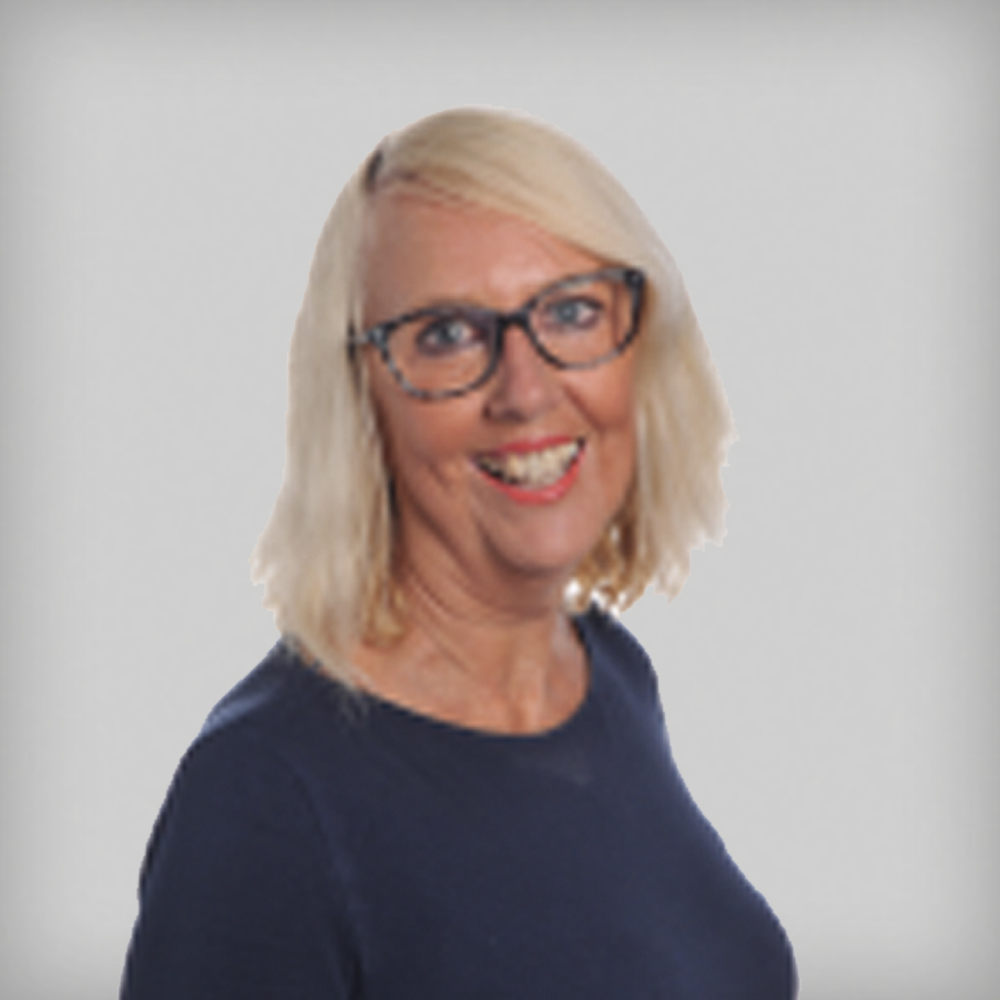 Mrs A Lacey
Attendance Officer