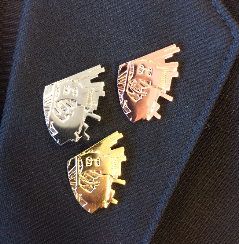 At Hall Cross Academy recognising, rewarding and being proud of excellence is an important part of our shared values and it takes place every day.
The Hall Cross Rewards Policy sees students receive points for displaying the values of the Hall Cross Learner, the student designed value system that focuses on being Literate, Creative, Team Player, Respectful, Independent, Motivated and Proud. Students also receive regular bonus point windfalls relating to their Hall Cross Learner Profile when we track progress.
Students accumulate points throughout the year earning gold, silver and bronze badges. The points that are earned by students can also be used in our online rewards shop where they can purchase a range of prizes, from stationery to snacks, from sports equipment to shopping vouchers.
In addition to this we also have our annual Awards Evening where we celebrate the achievements of our students throughout the year. Each subject awards trophies to students in all year groups for effort and achievement. There are a number of special contribution awards too such as the Head Teacher's Extra Mile award, the Dutton Award for Music and the Wynne Williams Award for KS3. The event is well attended by students, staff, governors and parents and is always an important date in the school calendar.